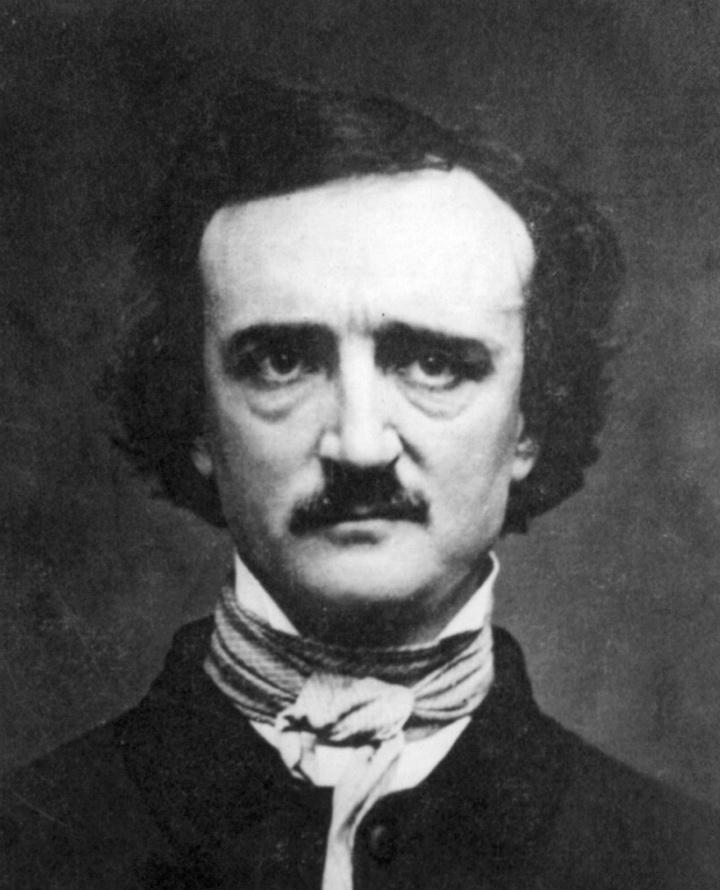 A few weeks ago, I had the pleasure of sharing Albemarle County with a couple who are 83 years old and making their first visit here from South Africa.  I walked them through the Academical Village at the University of Virginia with the intent of showing them the Lawn.  We turned a corner and ended up in Poe Alley, behind Pavilion III.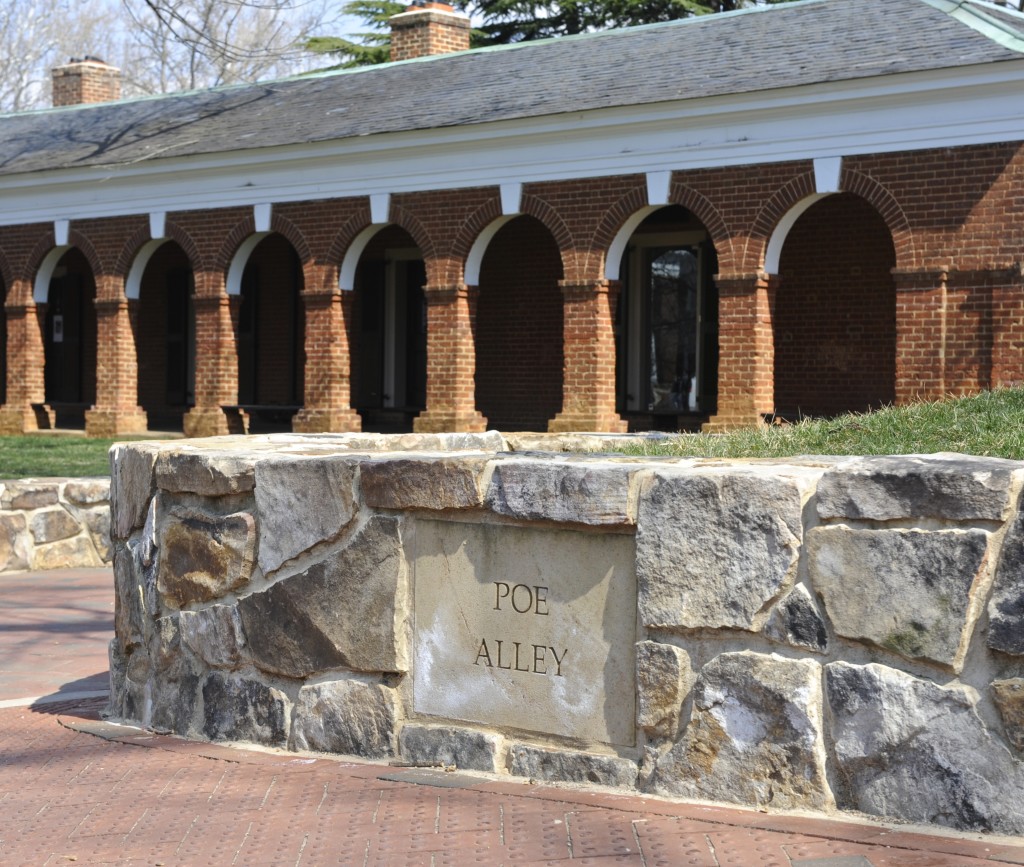 Poe Alley, of course is named for Edgar Allan Poe, an early student at UVa.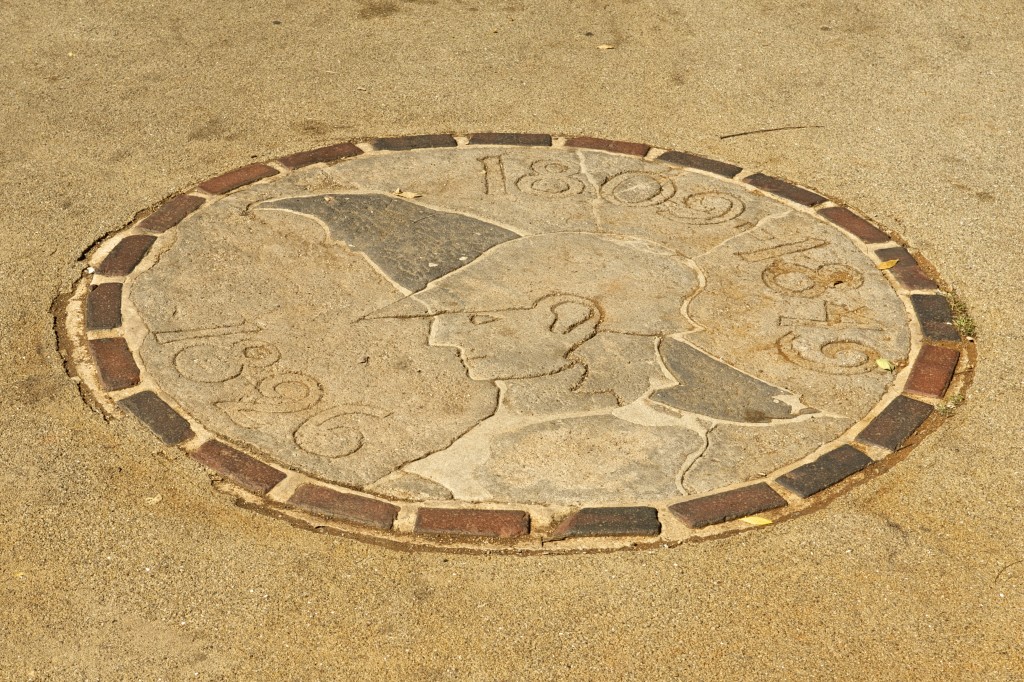 We literally stumbled upon this medallion set in the pavement of the small parking lot at the east end of Poe Alley. The simple design is of a bust of Pallas Athena with a raven (both from Poes's poem, The Raven).  The dates are of Edgar Allan Poe's life and the year he was a student at UVa.  I had never seen the medallion myself, and interestingly, this medallion is not well documented.  In an interview, retired UVa historian Sandy Gilliam mentions it in connection with the construction of Peabody and thought it might have been made at the time, about 1914. Architectural historian Brian Hogg, also of UVa, speculates it may have been created in the early 1920s.
Running across this medallion brought on a discussion of Poe, and October, the month of Halloween, seems an appropriate time to remember Edgar Allan Poe.  Poe was at the University for less than a year, enrolling on February 14, 1826, just the second session in the history of the school, now approaching it's 200th anniversary.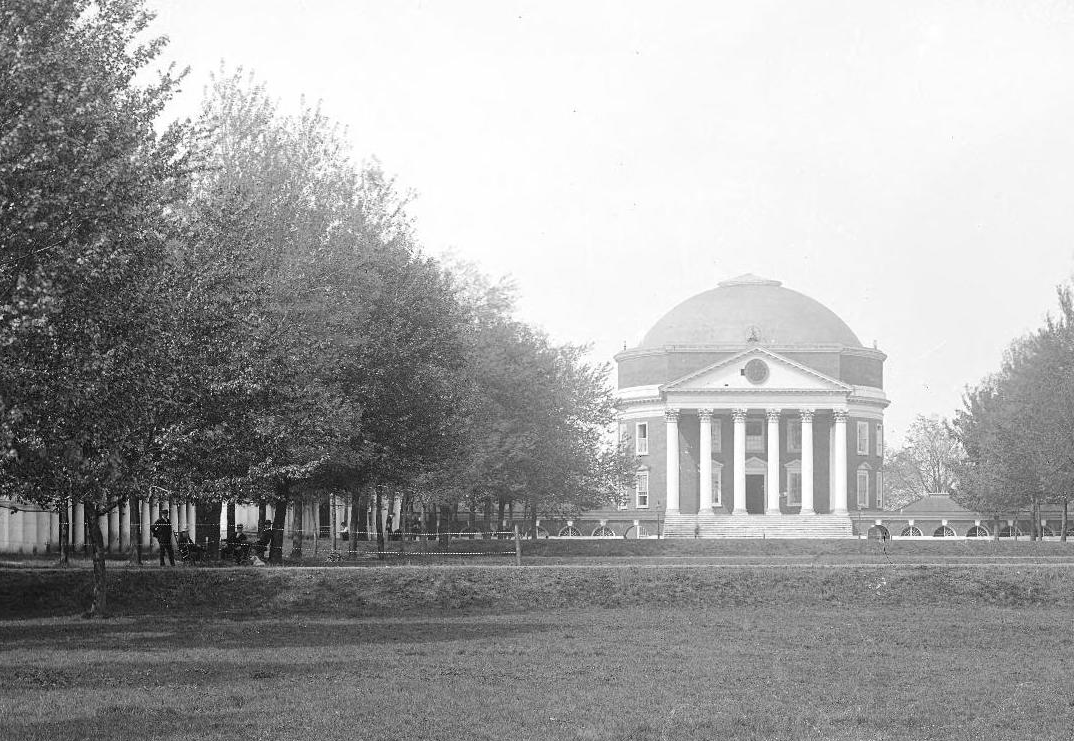 During Poe's time there the university was still being built and Thomas Jefferson was the Rector of the Board of Visitors. (Jefferson would die during the summer of Poe's year at UVa.)  Poe, in a letter dated September 1826 mentions the Rotunda is nearly complete.
"The pillars of the Portico are completed and it greatly improves the appearance of the whole — The books are removed into the library — and we have a very fine collection."  
(The above image was taken prior to the 1895 Rotunda fire and is the closest representation we have in photographs to the Rotunda Poe would've known.)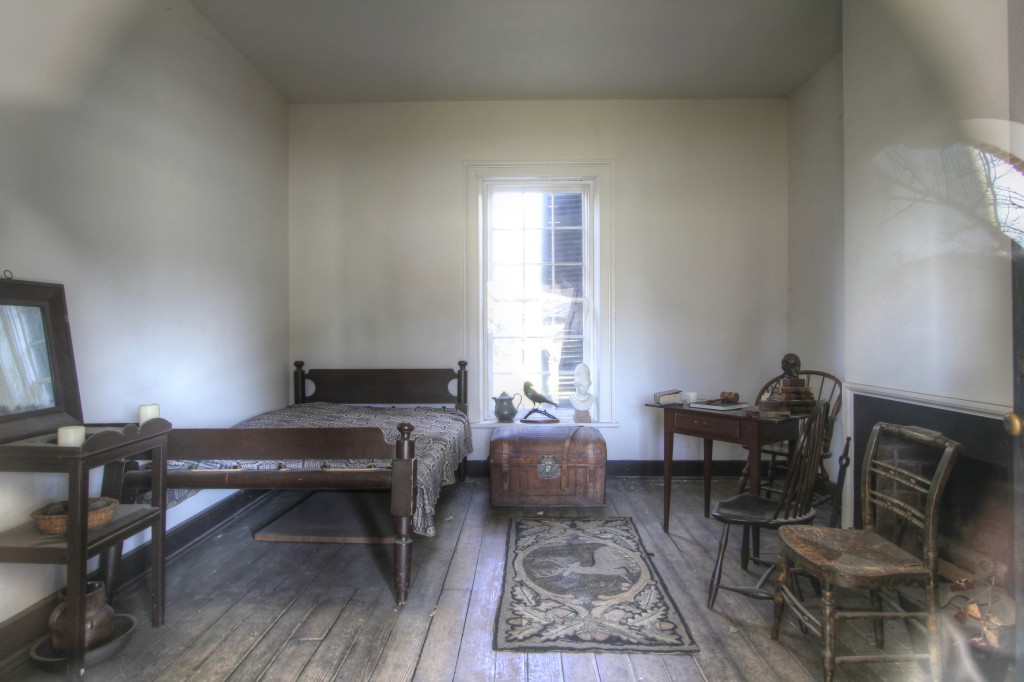 There is some debate as to which room Poe had at UVa, but most evidence points to #13 on the West Range. Today you can go to #13 and see a representation of what his room
may have looked like in his day.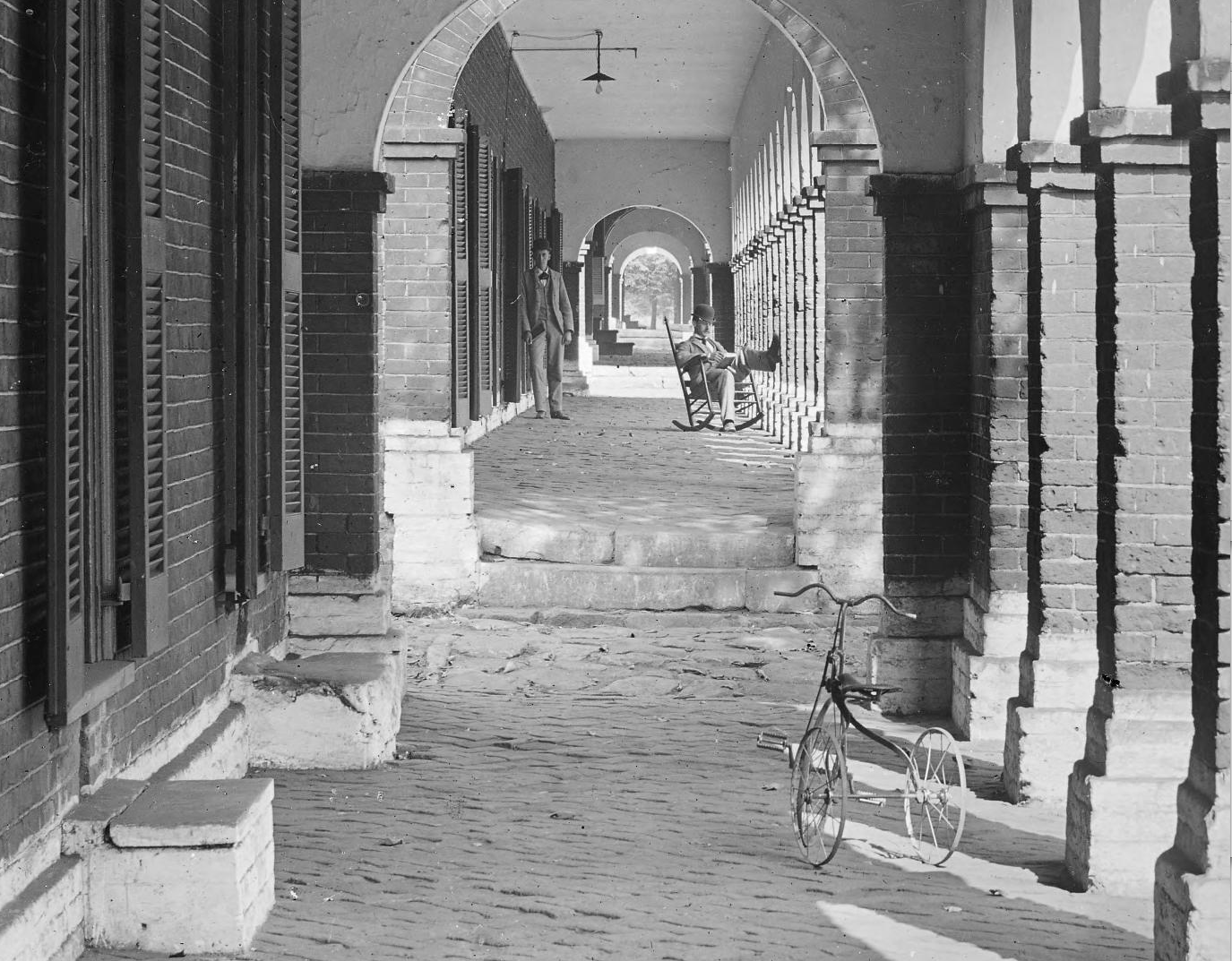 The Range rooms in this part of the Academical Village would have looked out into the woods of the surrounding country, and in reference to the group of young men living here this block of rooms was dubbed "Rowdy Row."  (The above image of the Range was taken during a much later time.)  The University as a whole was rowdy in those early years. It was filled with young men of privilege, many not even from Virginia.  They came with a sense of entitlement, a love of drink and gambling and those first few years were wild affairs with students often expelled and disciplined for their actions.  Just six months prior to Poe's arrival, Thomas Jefferson had gathered the student body in the Rotunda to plead with them to act like gentleman, he called that moment 'the most painful event of his life'.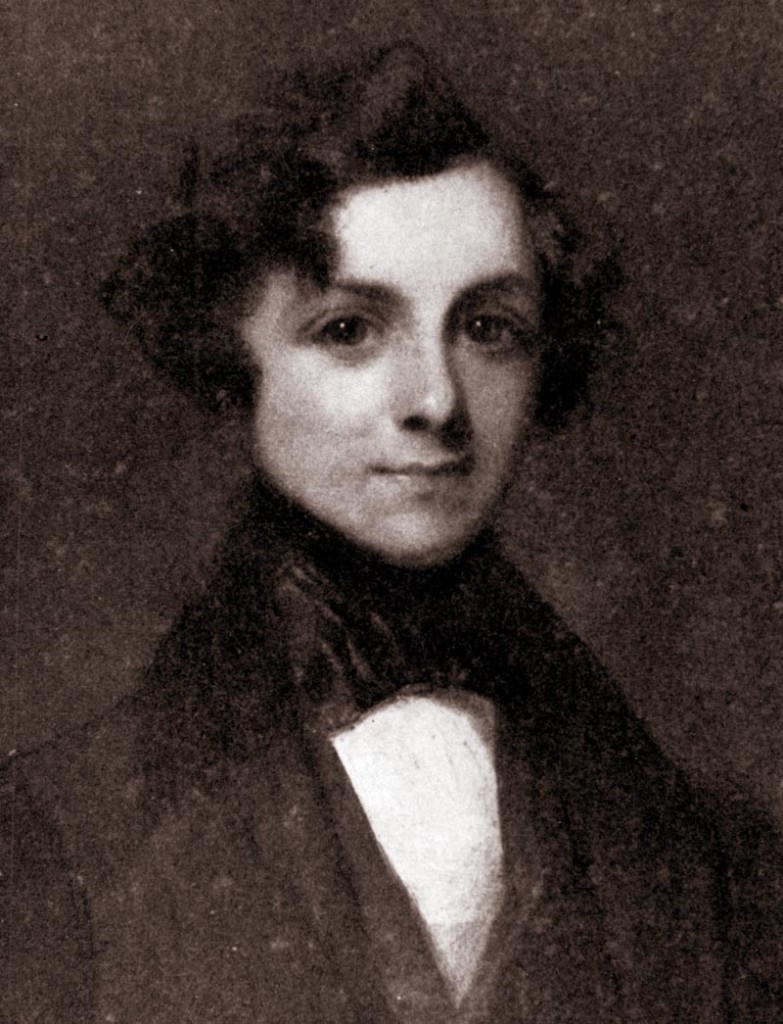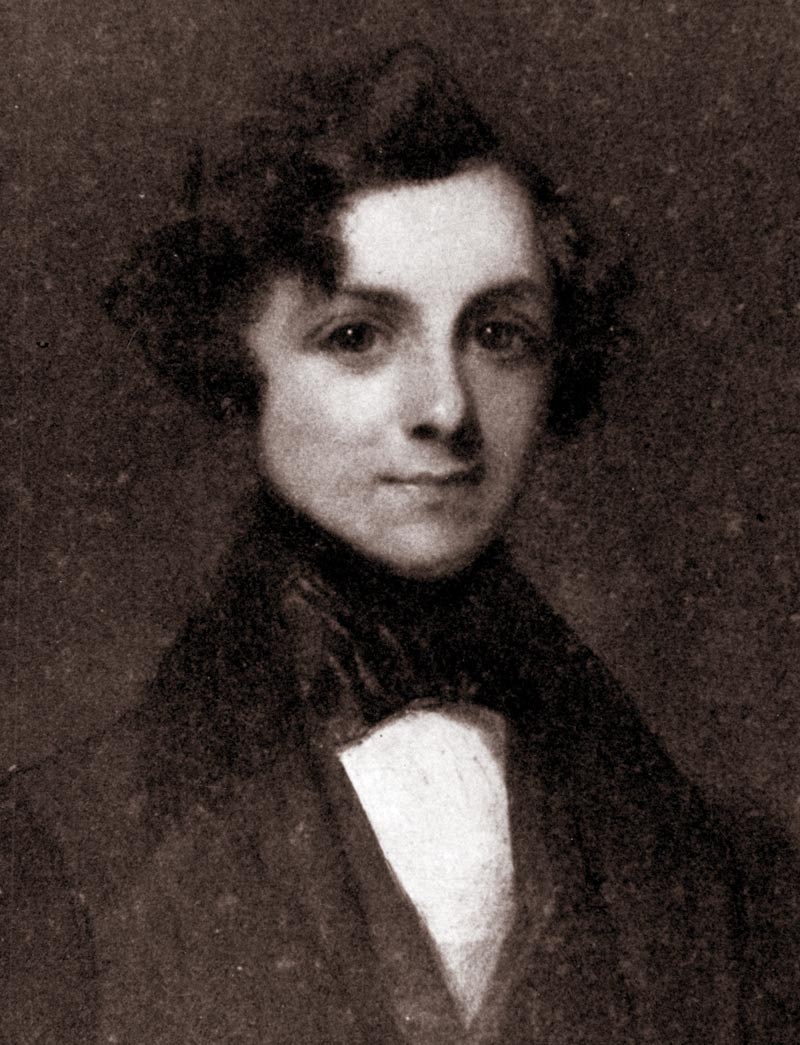 A portrait of young Edgar Allan Poe
Poe was remembered as a good student.  He excelled in his study of languages, and he joined the Jefferson Debate and Literary Society in June 1826.  He would write essays and share them with this small group.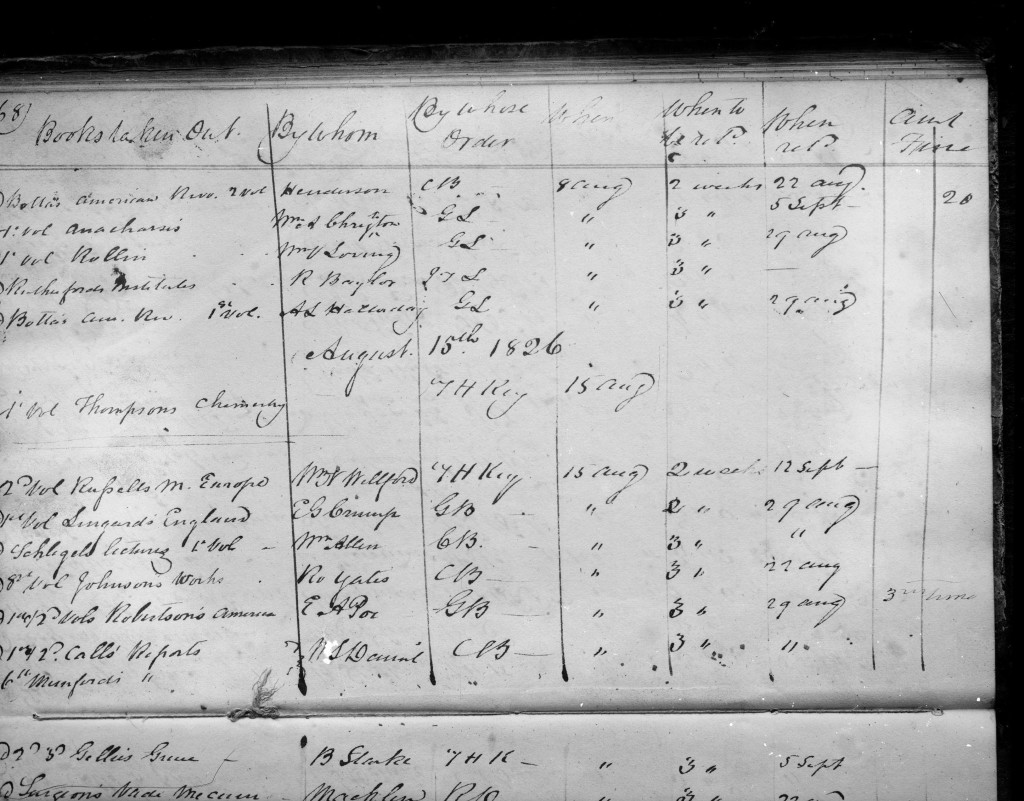 This photo taken in the early 20th Century shows the register used to check out books from the university library.  "E.A. Poe" can be seen toward the bottom.  He received a special commendation upon the completion of his finals, which incidentally were given orally in the Rotunda in a public forum. Present would have been professors, (the male parent or guardian was invited) and the Board of Visitors; James Madison, James Monroe, Joseph Cabell and General John Cocke. That was a serious final exam process!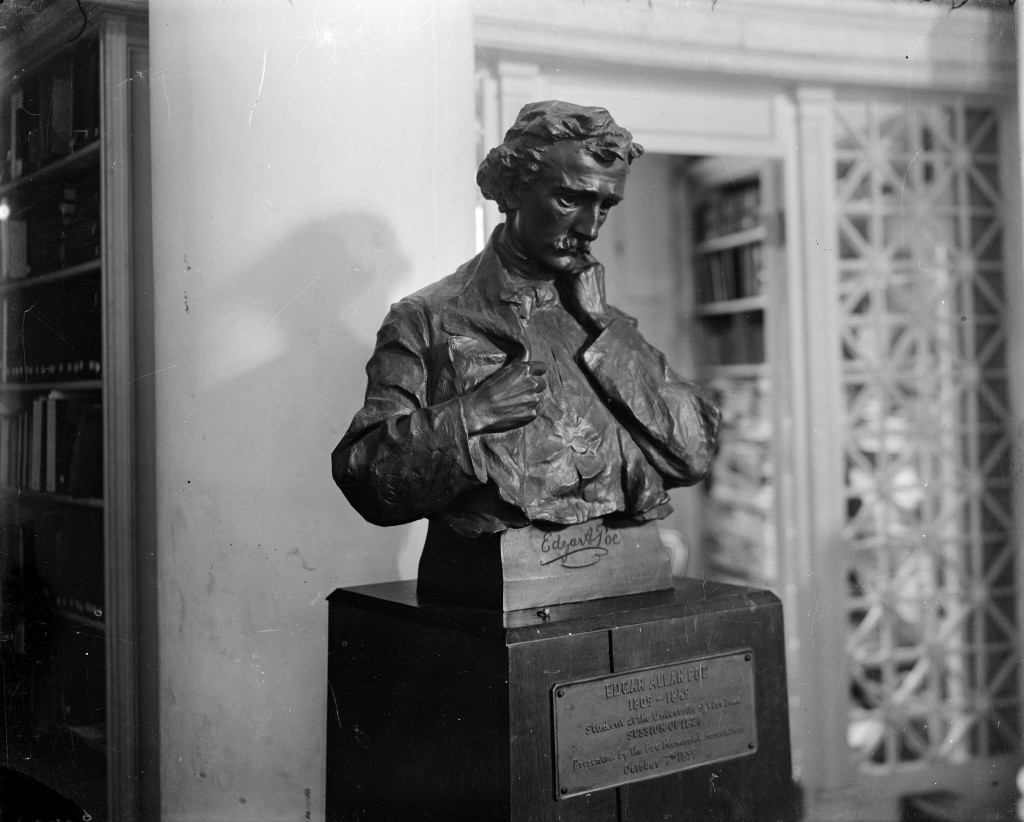 This photo shows a bust of Poe commissioned by the university to commemorate the school's famous poet. (Photo likely also from around the turn of the century.)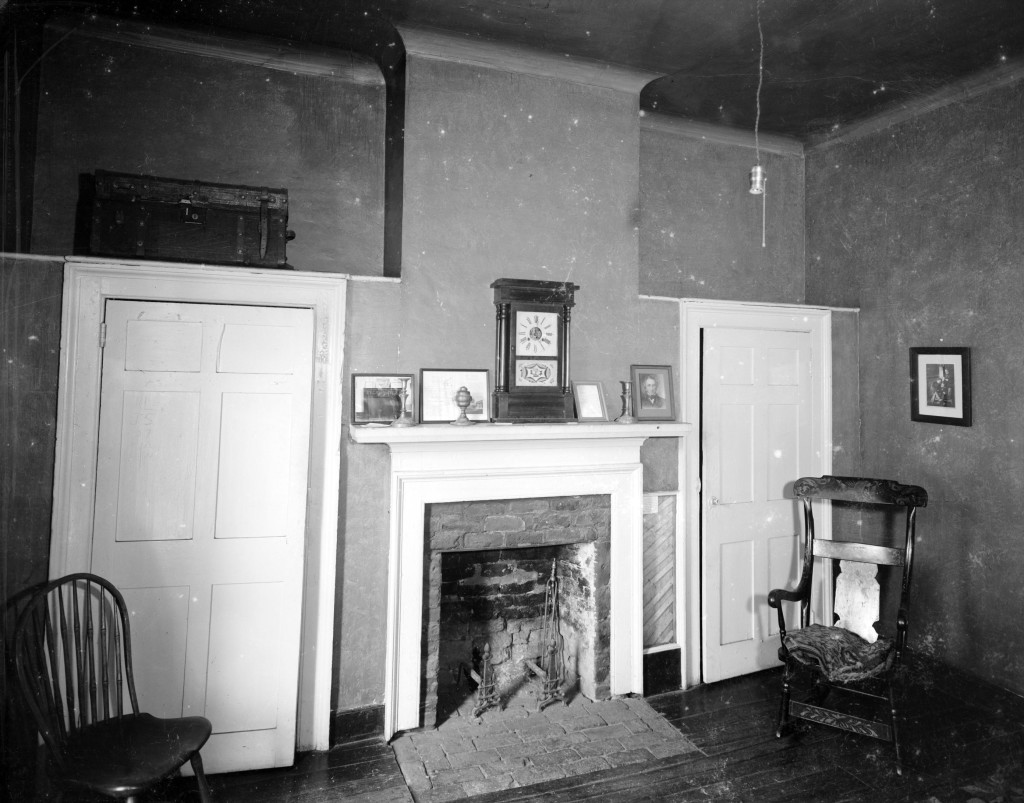 He was described as liking a drink, being moody and often using charcoal to draw images or prose on the walls of his room.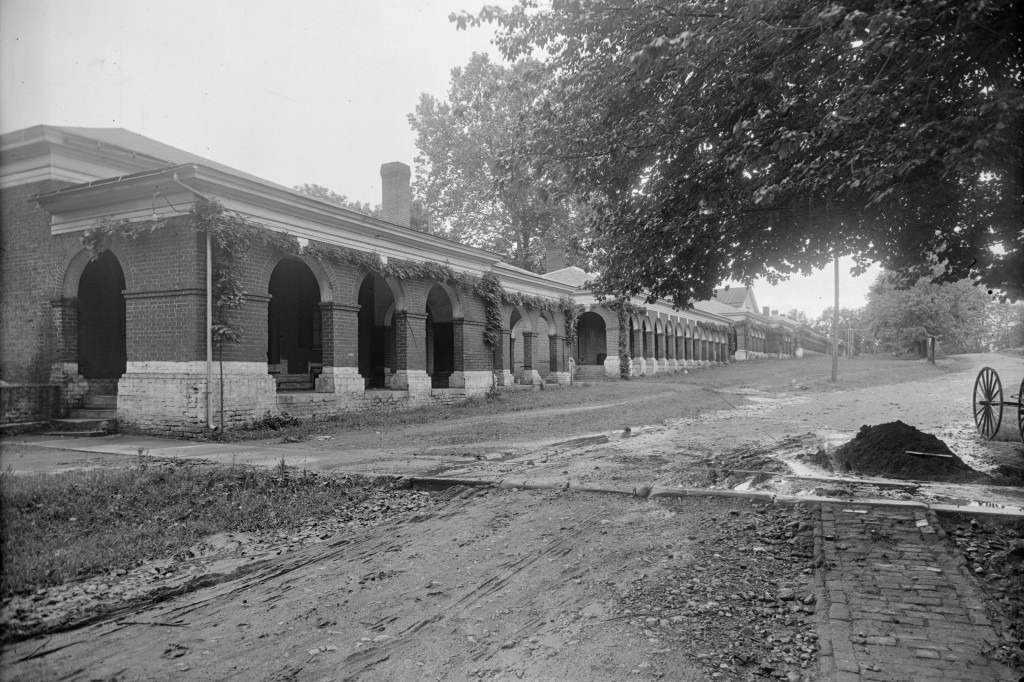 Poe would later insist that it wasn't drink or his lack of study that caused him to leave, but rather the failure of his foster father and benefactor, John Allan, to provide him with enough money to cover his expenses. (Poe was an orphan and only 17 years old when he attended the university.)  Student expenses were great. Poe's two language courses cost him $60, he could not afford to take a third as most students.   Room rental was $15 a year with another $12 for a bed and another $12 for other furniture.  Each young man was also expected to pay a servant.  He turned to gambling to make money to pay his creditors in town, and that failed miserably.  At the end of his successful first term at school John Allan refused to allow him to return.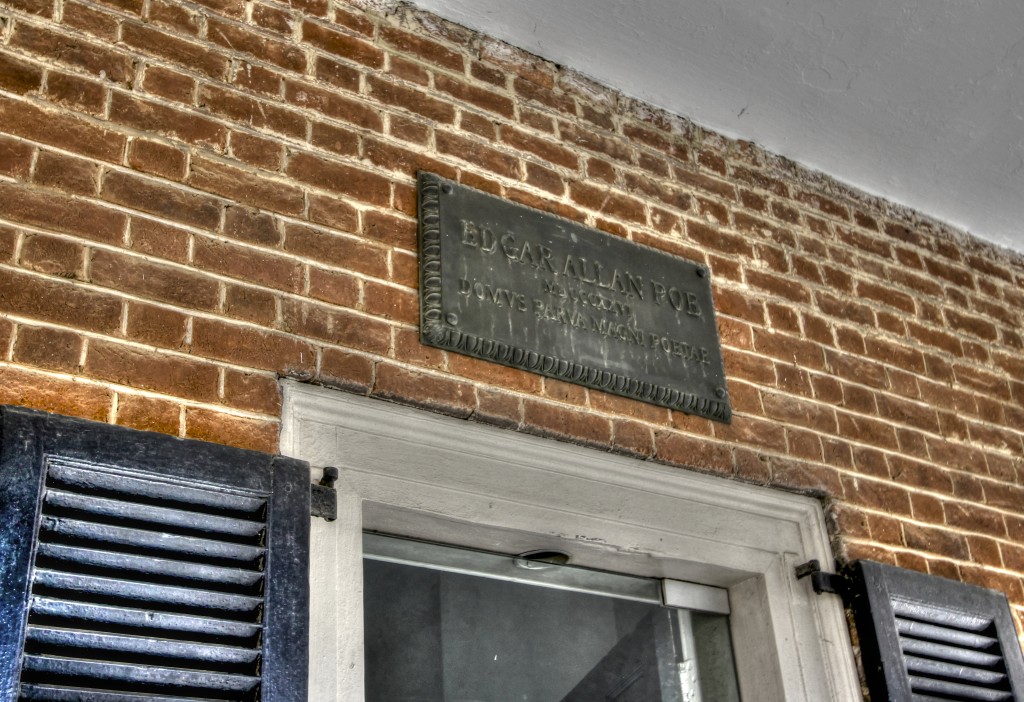 Today a plaque is mounted above the door of #13 West Range.
In a letter he wrote to Allan in 1831 about his time at UVa, perhaps summing up what would become the foundation of his short, troubled life:  "I could associate with no students, except those who were in a similar situation with myself – altho' from different causes – They from drunkenness and extravagance – I, because it was my crime to have no one on Earth who cared for me, or loved me."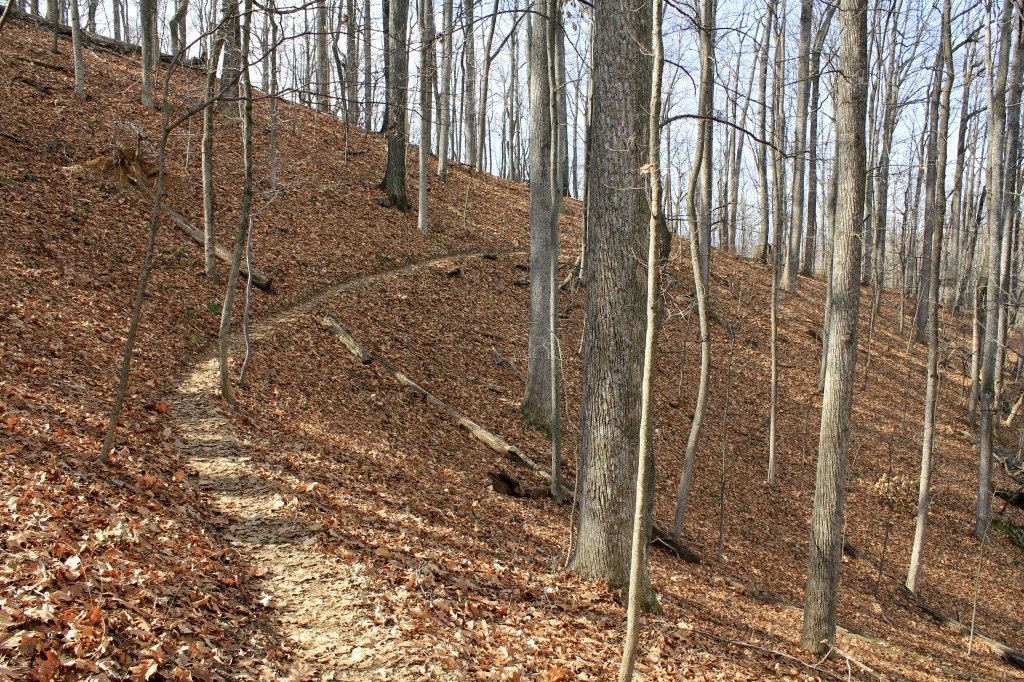 Poe was known to enjoy a hike in the surrounding country and was inspired by the nearby mountains.  He wrote a splendid, spooky short story called 'A Tale of The Ragged Mountains', his only work that mentions the town of Charlottesville.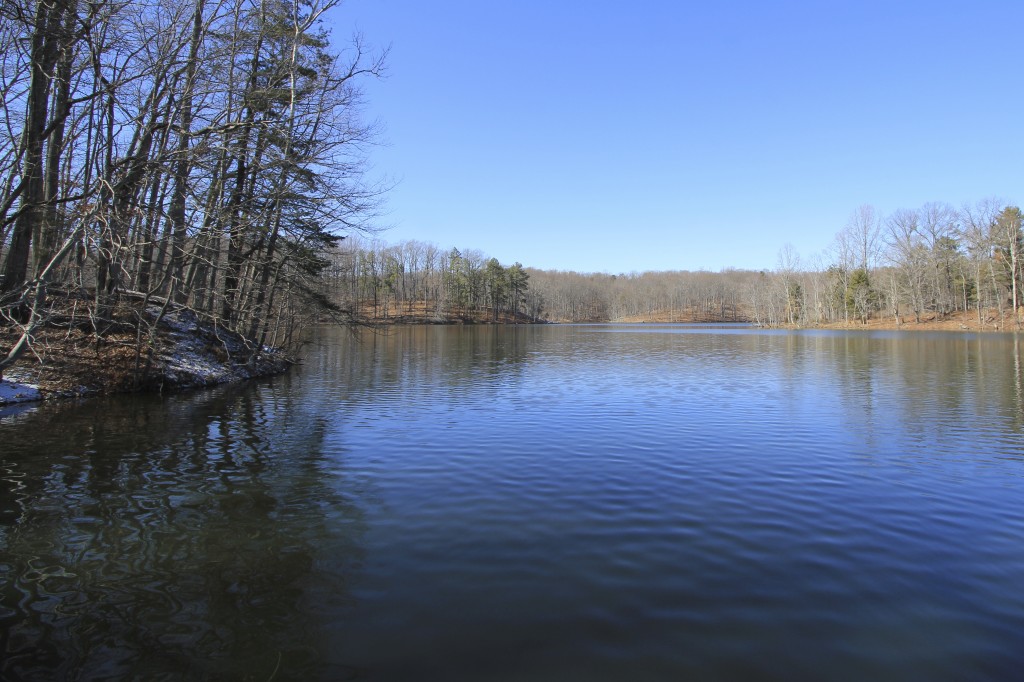 Today this part of the county side is the location of one of Charlottesville's 3 reservoirs.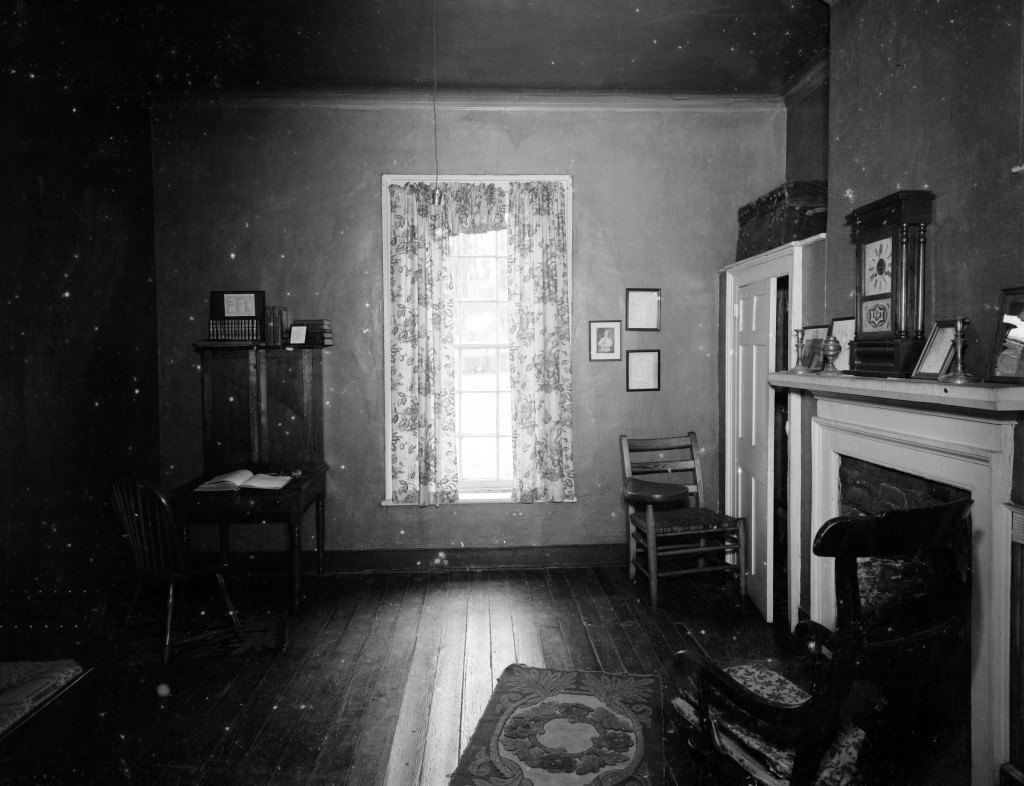 Years later he was described by fellow student, Miles George in a letter to E.V. Valentine:
"He was fond of quoting poetic authors and reading poetic productions of his own, with which his friends were delighted & entertained, then suddenly a change would come over him & he would with a piece of charcoal evince his versatile genius by sketching upon the walls of his dormitory, whimsical, fanciful, & grotesque figures, with so much artistic skill, as to leave us in doubt whether Poe in future life would be Painter or Poet; He was very excitable & restless, at times wayward, melancholic & morose, but again — in his better moods frolicksome, full of fun & a most attractive & agreeable companion. To calm & quiet the excessive nervous excitability under which he labored, he would too often put himself under the influence of that "Invisible Spirit of Wine" which the great Dramatist has said "If known by no other name should be called Devil"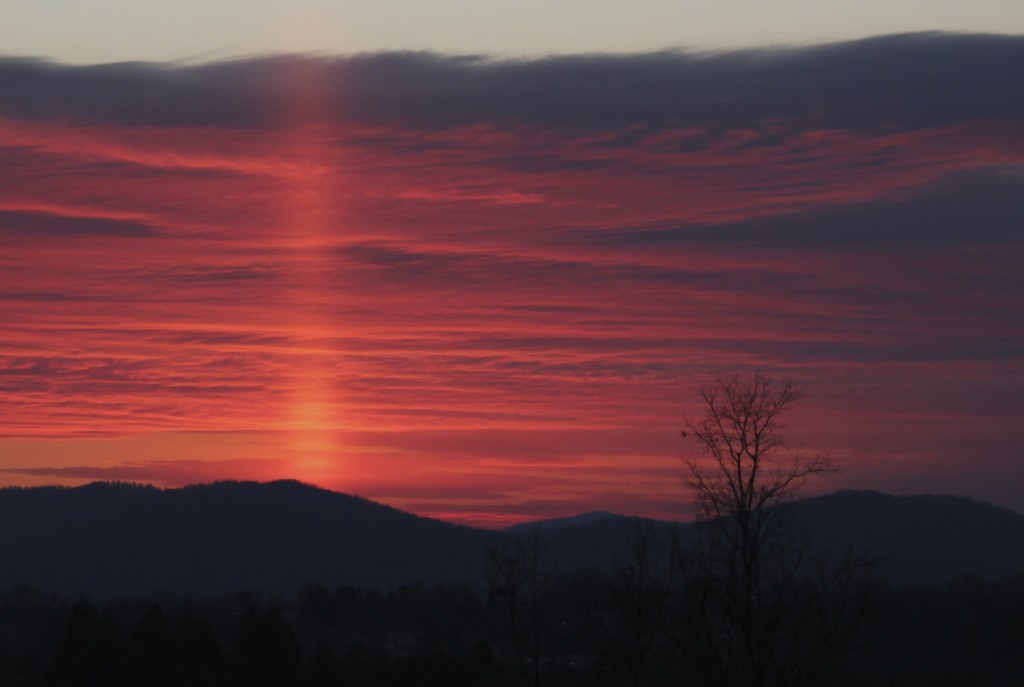 Sunset over the Ragged Mountains just a couple of miles southwest of the University.
Written by Lisa Ramsey Bergstrom.  
This is our second collaborative effort with history researcher Lisa Bergstrom who also wrote the recent post, "The Aviator"
B&W photographs of UVA courtesy Special Collections, UVA Library.  
Current day photos by Steve Trumbull