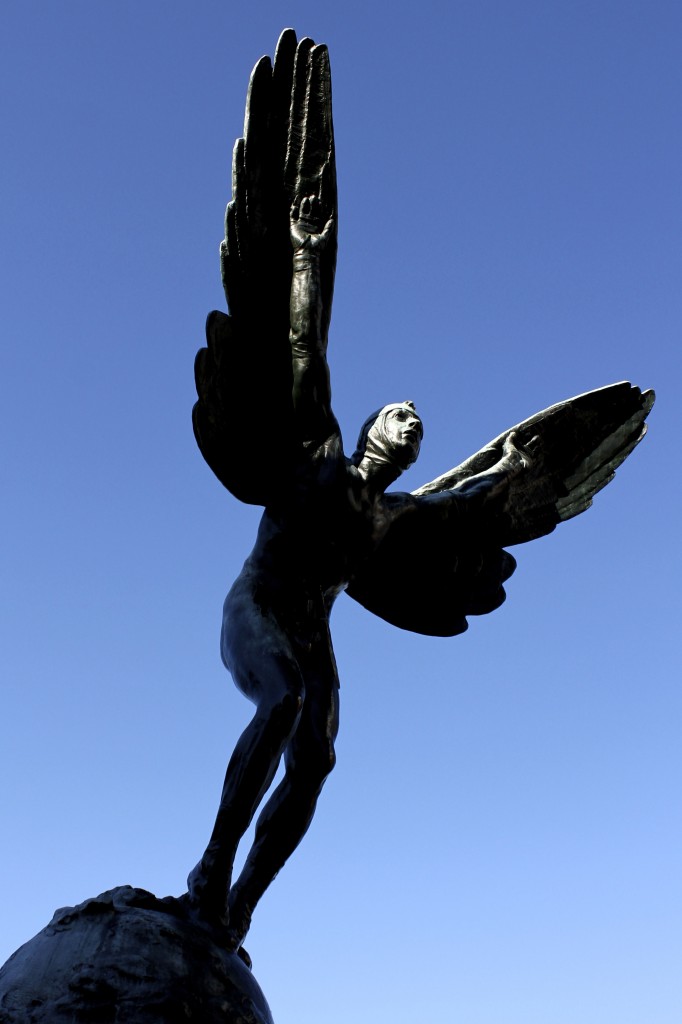 If you have ever walked the Grounds of the University of Virginia, near Alderman
Library, you have probably seen this curious statue.  An athletic young man, standing on the world, with wings on his arms, and wearing a WWI aviator's cap.  It is titled "The Aviator" and was sculpted by Gutzon Borglum.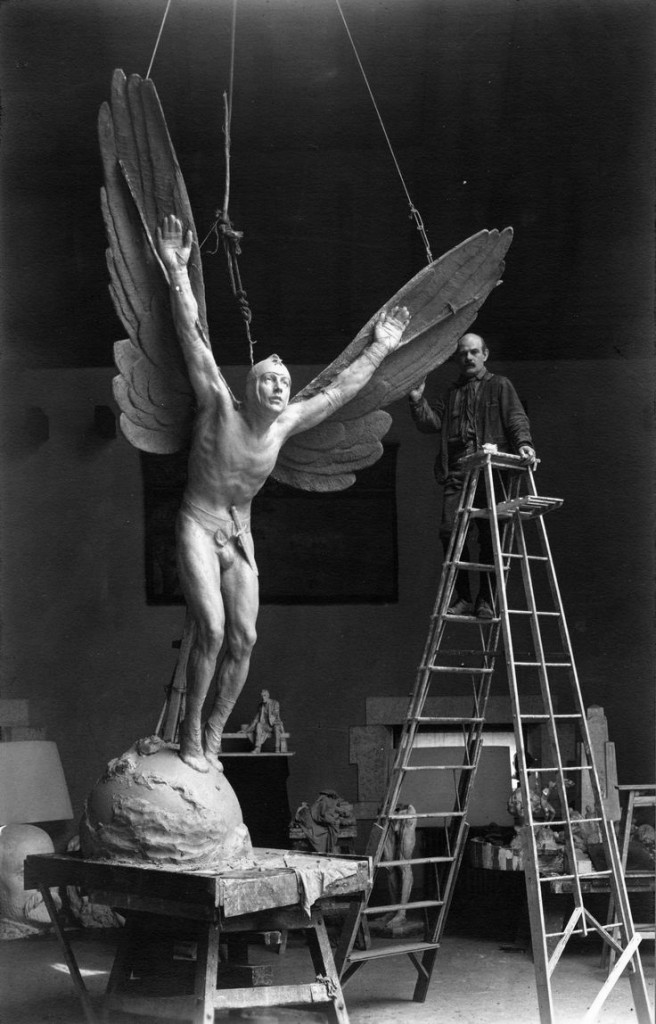 You may not recognize Borglum, but you know his work.  He was the designer and sculptor of Mount Rushmore.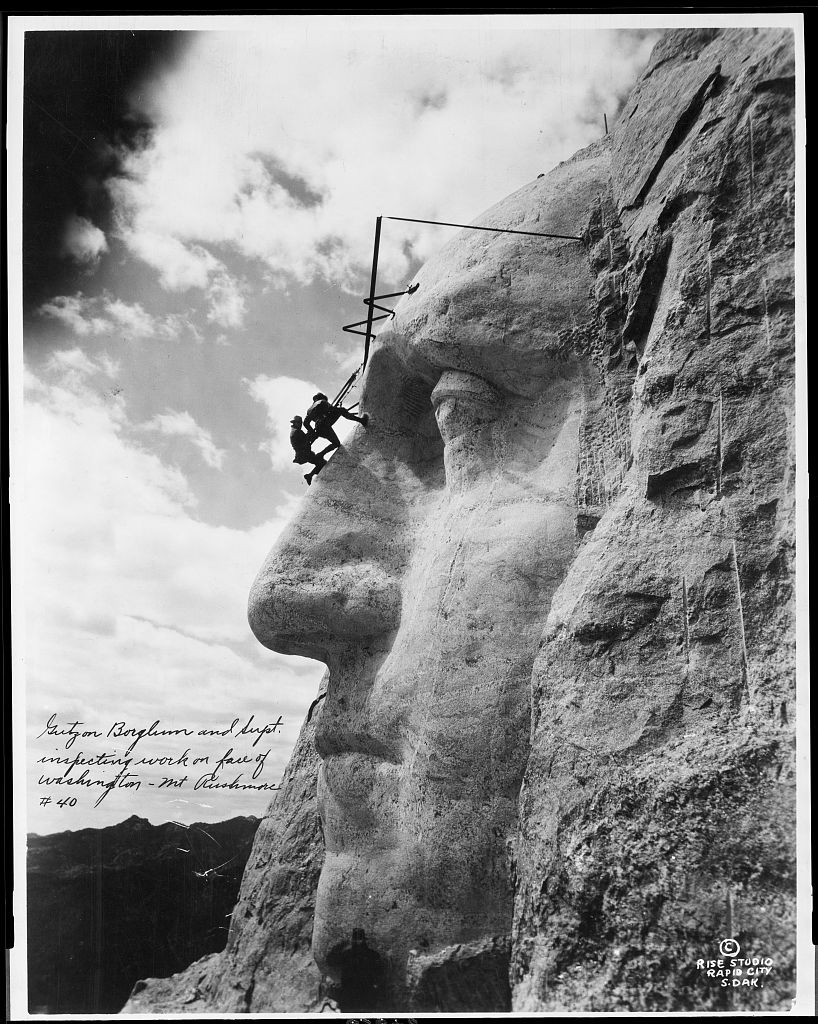 This image shows Borglum and one of his team on the likeness of George Washington on Mt Rushmore in the 1930s.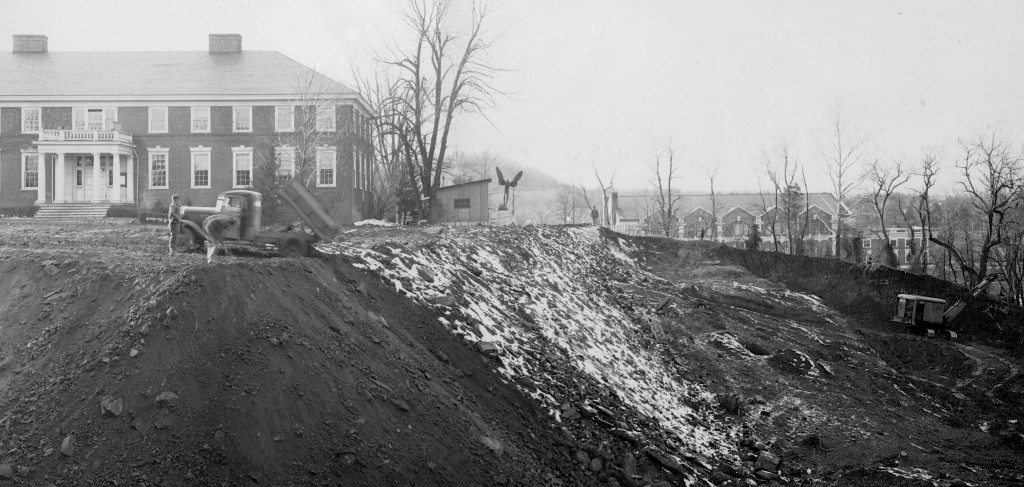 "The Aviator " had already been in place for more than a decade by the 1930s.  This  photograph shows the statue in place at the time construction began on Alderman Library.  A dump truck can be seen here dumping fill where the library would later be built. Part of Memorial Gym (built in the 1920s) is visible in the distance (right).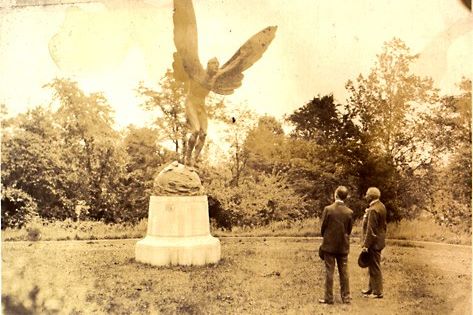 Another photograph shows the statue in place, shortly after installation, with only landscaping around it.
Borglum isn't the only story behind this statue. It was sculpted to
commemorate the remarkable former UVa student, young business man,
decorated WWI hero, and a founding member of the French flying squadron, the Lafayette Escadrille.  The real story here is the short life of James Rogers McConnell.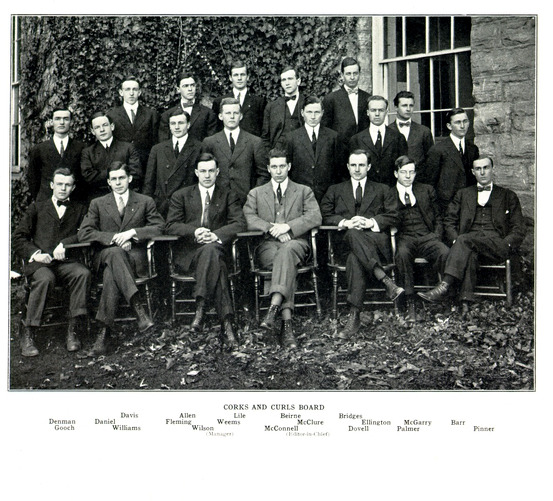 James McConnell entered the College in 1907, where he studied for two years before
entering the Law School where he stayed until his withdrawal in 1910.  Jim
was well liked and active at the University holding memberships in Beta Theta Pi Fraternity, Theta Nu Epsilon, O.W.L., T.I.L.K.A., The German Club and The Seven Society.  He was King of The Hot Foot Society, Editor-in-Chief of Corks and Curls (front, center in light colored suit in above photograph), Assistant Cheer Leader, a founder of the Aero Club.
In 1915 France was at war with Germany.  America was not yet involved, but many American young men joined the American Field Service in France which drove ambulances and helped the wounded.  Jim was one of these volunteers. On the trip over he met a beautiful French girl and her mother, who had been living in New York, but were returning to 'do their duty' at home.  Jim and Marcel fell in love and some of their letters are preserved by The University.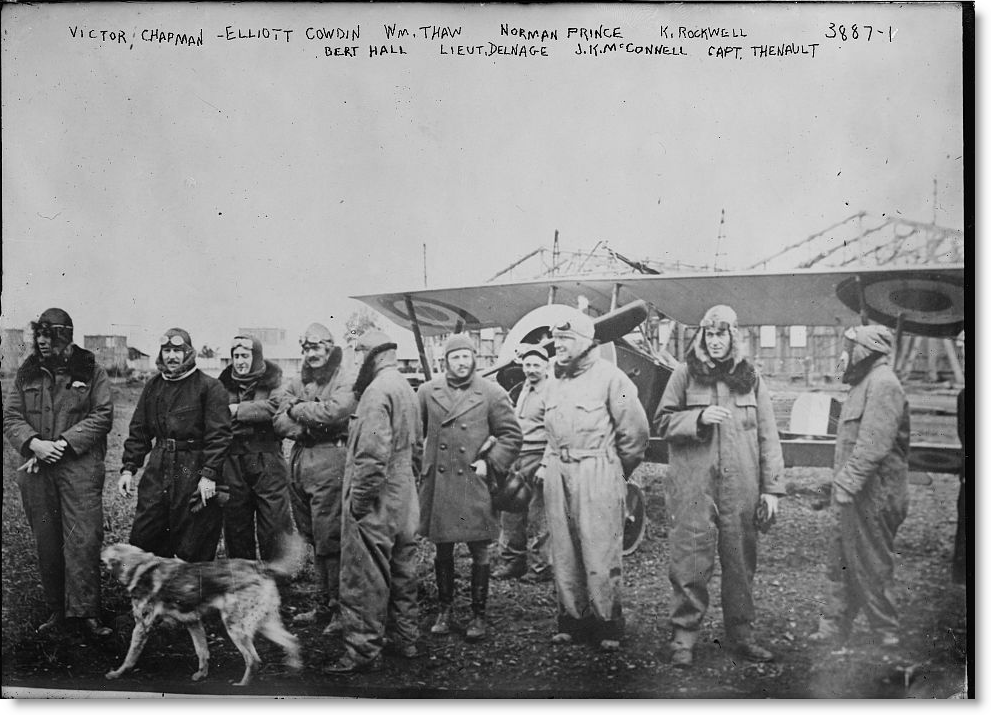 McConnell was recognized by the French government for his bravery and in 1916  he volunteered as a pilot in the newly formed, almost all American, flying squadron.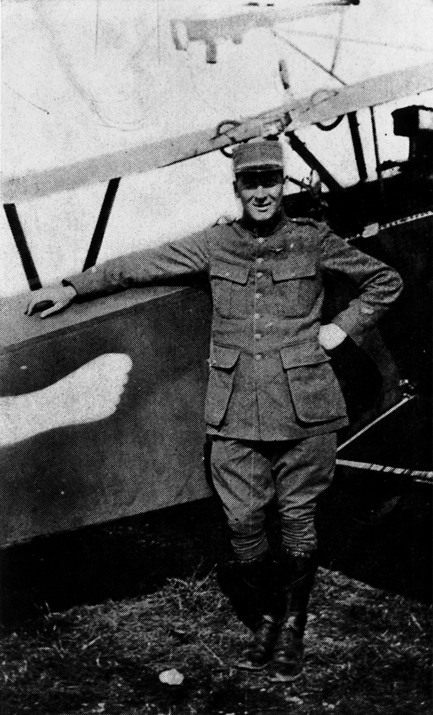 The symbol painted on McConnell's plane is not the symbol of his squadron.  It is a red foot, for the Hot Foot Society he loved so well while at the University.  Even while far away in France, flying for another country, he wanted to be connected to his beloved UVa.  His classmate, and friend, Armisted Dobie noted that when in France he saw a memorial plaque for Jim.  Upon it was engraved his name, birth and death dates, branch of service and mention of him receiving the French medal Croix de Guerre for his service…and at the bottom 'he was an alumnus of the University of Virginia'.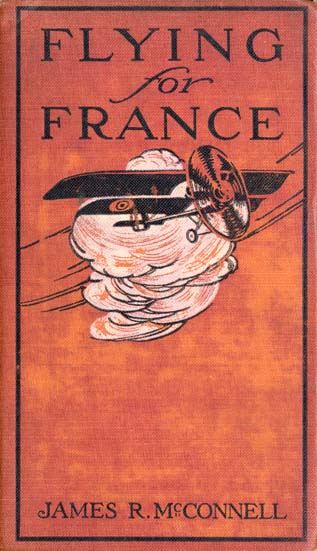 McConnell would write of his experiences during the war in a book published after his death.
Marcel Gruein, the young woman he met on the trip to France, wrote of their last time together 60 years later. "To this day I wistfully recall the last time we entertained dear Jim McConnell. We were about to be served coffee in the salon and as he stood with his back to the fireplace, he said in a quiet voice 'well, I suppose I'm the next to go.'  Those prophetic words wrenched our hearts and alas came true the 19th of March, 1917."  He was killed in aerial combat with two German aircraft. He had just turned 30 that week.  He was the first University of Virginia alumnus to die in WWI.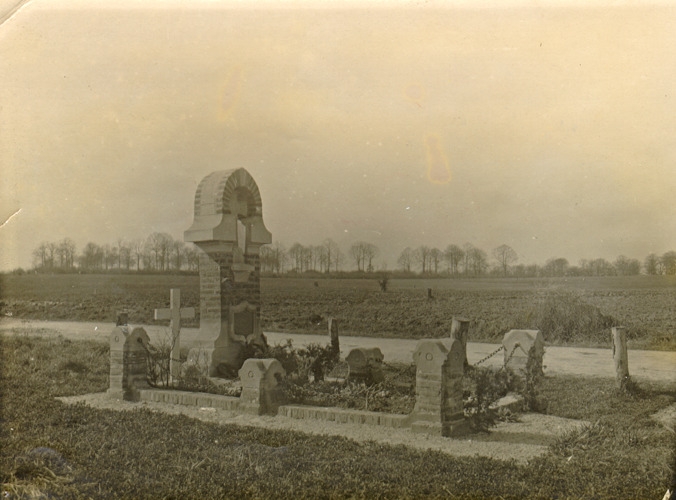 Sgt. McConnell was missing for three days after his plane was shot down just over German lines.  Letters from his fellow pilots tell of their hopes he may yet be safe, maybe taken prisoner. In the following days, the Germans began retreating,  and his comrades  finally heard news  about his fallen plane.  A local woman saw the crash, but wasn't able to approach because the German's swarmed over the scene taking all they could, even his boots.   Two of his fellow pilots were able to fly in and verify his death.  The French troops buried him where he fell, in an apple orchard, near a road, outside the small town of  Petite Detroit (above photo).  The family that owned the farm soon deeded the location of the grave to Jim's father.  Local families tended the grave and kept it covered in flowers, even in winter.  At first, it was marked only by the broken pieces of his plane.  Soon, the French built him a monument and in 1928 he was finally moved to rest with his fallen friends in the Lafayette Memorial at Marnes-la-Coquette, France.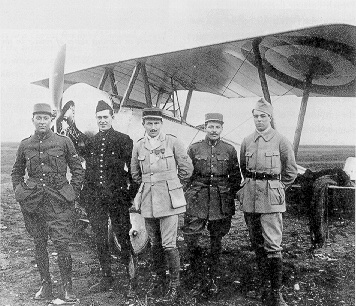 James Rogers McConnell, pictured here on the far left, was nothing less than a hero back in Charlottesville, Virginia. Within a week of his death, University President Edwin A. Alderman had been contacted by family and alumni requesting a memorial.  President Alderman to McConnell's father:   'I am glad I knew James McConnell well. I saw in him evidences of idealism, but I confess I did not suspect that there lived in his happy, carefree mood such splendid reserves of courage, devotion, idealism and faith," Alderman wrote.  "If he were my boy, though his broken body lies buried in a foreign land, I should be the proudest father in the world today."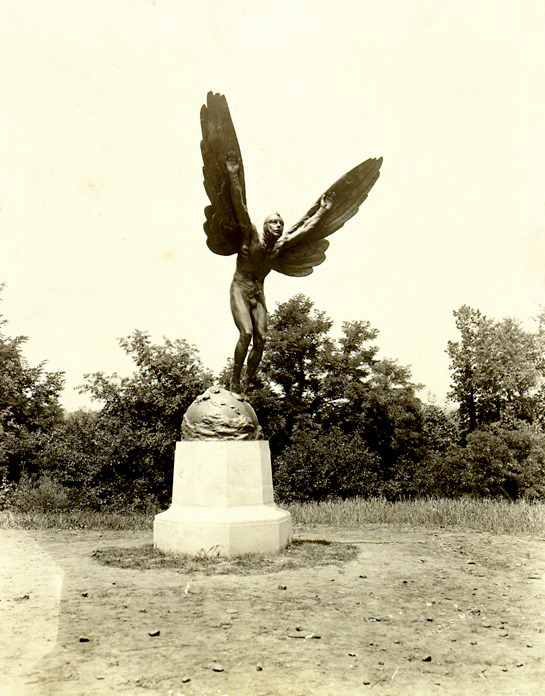 In 1918 Mr. Borglum gave an interview to the New York Evening Sun where he explained
his inspiration for the statue:"I was asked to make a memorial to one of those young Americans who offered his life and gave it to France, fighting against her enemies and the enemies of mankind.  I saw no better way of memorializing their great accomplishment than by making this modern Icarus a real man flying….The vision of Daedalus, the Greek, who attempted to make wings for himself and his son has at last come true.  Daedalus and Icarus, however, flew too near the sun and their waxen wings melted, but the aviator of today has combined the daring and fearlessness of the Greek with twentieth century science….The McConnell statue represents a modern Icarus just in the point of leaping off the world, the shank knife which he carries in his belt symbolizing combat."
The statue is revered by those who understand its history and the man it memorializes. This photo shoot in the 1940s appears to be connecting the war heroism of the First World War with the war efforts in WWII.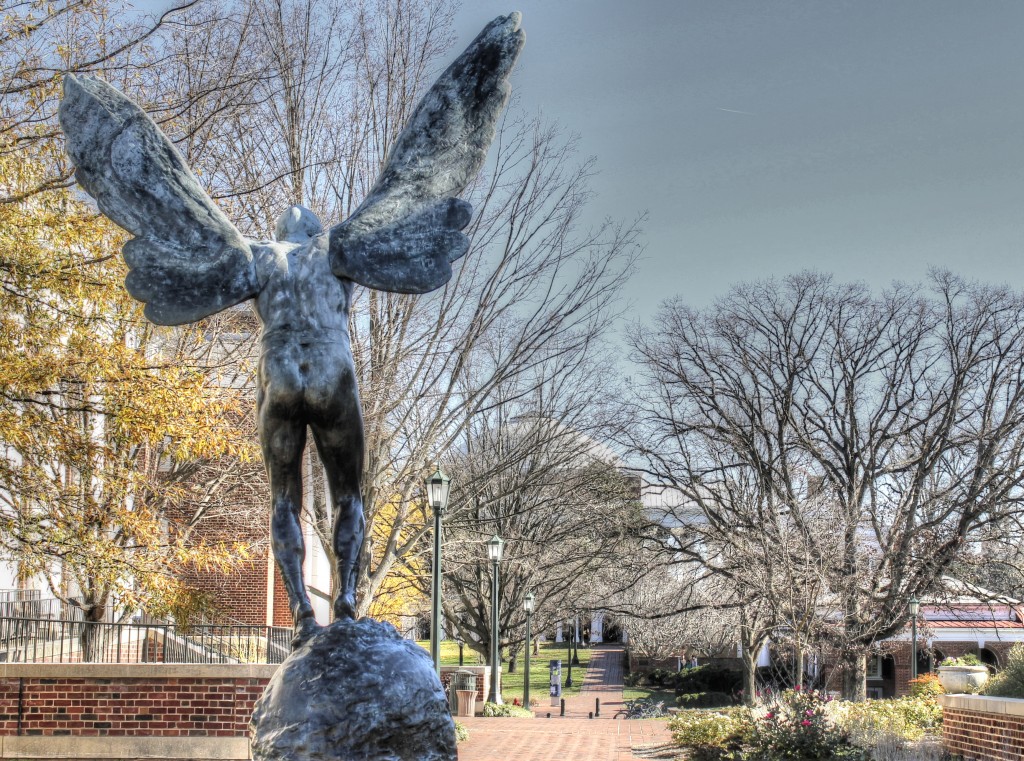 The Aviator statue has long been a source of interest, curiosity, but also misunderstanding.  Students have covered it with just about everything, including balloons, toilet paper and even a jockstrap.  People make fun of it thinking it was supposed to be an angel or maybe a lunatic.  Others have wanted to remove it because it did not seem to fit the surrounding architecture. This statue is in memory of a real man, a funny, smart, well loved member of the University of Virginia.  A man who studied hard and played hard, was known as a prankster and could be found around Grounds playing the bagpipe…who once took a train to New York just to buy a 'Scottish uniform"..maybe that uniform made him better at the bagpipes?!  He was fun loving and ready for adventure.  After his death, a friend described him as someone with "hatred of the humdrum, an abhorrence of the commonplace, a passion for the picturesque".  I don't think he'd mind the pranks the students play on his memorial, I rather think he would encourage it.
Written by Lisa Ramsey Bergstrom.
C'ville Images is pleased to have Lisa, a writer and history researcher, contribute to our ever-growing list of posts about Charlottesville history.
 If you share our interest in C'ville history and old photographs, please contact us. We are looking for writers, photographers, and researchers who would be willing to contribute a little bit of time to explore our local history.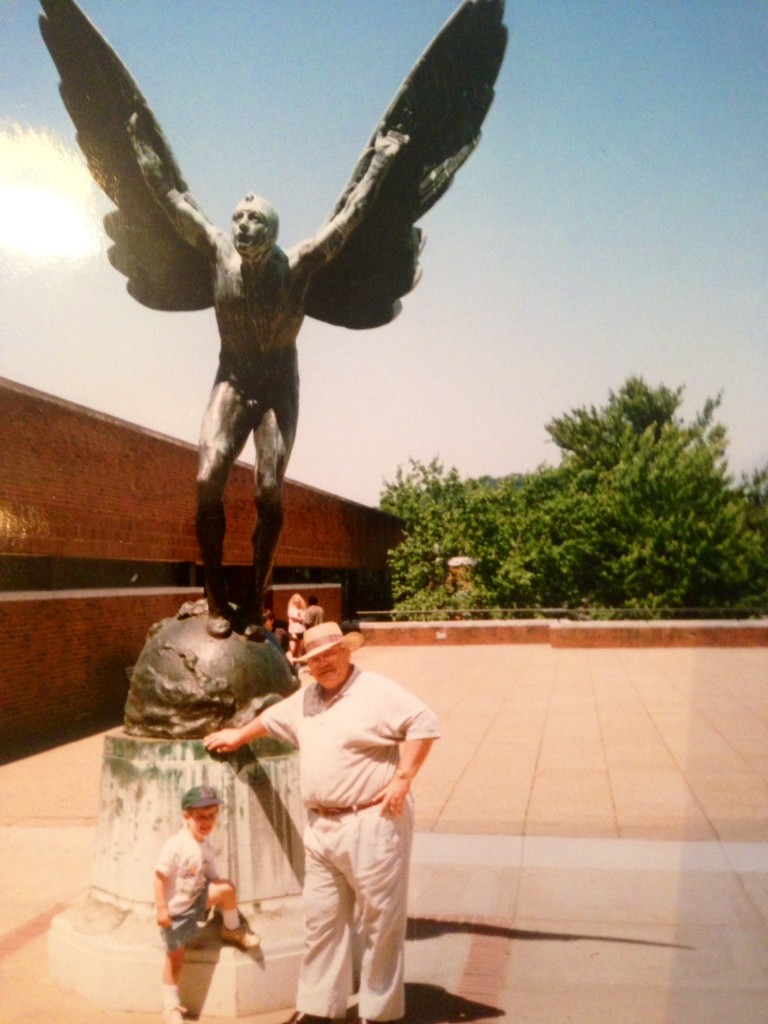 I first saw this statue in 1996.  My stepfather, who was a pilot in the US Air Force, was drawn to it and had this picture taken with his then 4 year old grandson, Christian.  Christian is now a 4th Year at the University of Virginia. When I told some current students I was doing a story about this memorial they said 'oh that weird statue by Alderman?'  Yes, that's the one.  That is why I wanted to tell this story on the 100th year anniversary of the start of WWI. -Lisa Ramsey Bergstrom
Photo credits/sources (numbered in order):
Steve Trumbull: 1,2,14
UVA Library: 2,4,5,7,8,9,11,12,13
Library of Congress: 3
Corks and Curls (UVA): 6
Lisa Bergstrom: 15